Ceschi + Ceiling Demons
New Cross Inn, London.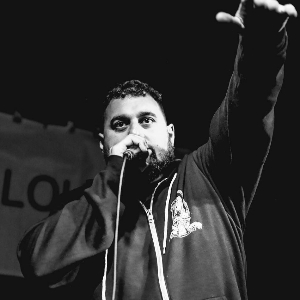 More information about Ceschi + Ceiling Demons tickets
Folk-rapper and Fake Four Inc founder Ceschi Ramos will make his long-anticipated journey across the ocean for his first headline UK tour this October.

The London date will take place at New Cross Inn on Sunday 17 October and feature North Yorkshire's alternative art-rap / spoken word band Ceiling Demons plus bedroom synth pop group Ghostbusters VHS and more.

Presented by Yorkshire DIY promoters Dual Tree in partnership with New Cross Live.

Sunday 17th October 2021
Doors 6pm
Tickets £10 ADV
CESCHI:
Ceschi Ramos is a rapper and singer from Connecticut (US) who has been hopping genres and spilling guts for the better part of two decades. He has recorded with and toured alongside some of independent rap music's most influential figures, including Sage Francis, Busdriver and Astronautalis. Ceschi was born with four fingers on his right hand, which served as partial inspiration for the name of his DIY record label, Fake Four Inc. Those who have worked with him describe Ceschi as one of the most artist-friendly labelheads out there, a rare breed who values art over profit almost to a fault. Since 2008, he has curated a roster of wildly original and critically praised talent and put out albums from the likes of Open Mike Eagle, Buck 65, Serengeti and Sadistik. He has done a split album with cult folk-punk artist Pat The Bunny and released a number of critically acclaimed solo records including The One Man Band Broke Up, Broken Bone Ballads, Sad, Fat Luck and Sans Soleil respectively. An engaging, theatrical live performer, Ceschi Ramos has treated entire venues like a stage, viewing the middle of the audience or an empty barstool as good a place as any to perform a soul-baring folk song or tongue-twisting rap track. Fresh from the long-awaited release of his Deadpan Darling album with producer Televangel and a September US tour with Dark Time Sunshine - we're immensely proud to finally be bringing Ceschi to London!

CEILING DEMONS:
Support comes from North Yorkshire's alternative art-rap / spoken word band Ceiling Demons who are touring their latest album 'Snakes & Ladders' out on vinyl via Butterfly Effect & Fake Four Inc. this Autumn.

GHOSTBUSTERS VHS:
Warrington based bedroom synth pop group, Ghostbusters VHS also support! The brainchild of Tom Massey, their last record 'Resistance' is an impressive body of work that was co-released on vinyl by Fake Four Inc in 2019.